Working Mother Magazine Names Zoetis a Top Ten Company for 2017
September 26, 2017
Zoetis makes Working Mother's 100 Best Companies list for fourth consecutive year.
Zoetis has been named as a Top 10 company in Working Mother magazine's 2017 "100 Best Companies for Working Mothers" list. This is Zoetis' fourth consecutive year in the rankings, reflecting the company's sustained commitment to creating a work environment where all colleagues can thrive.
Through this ranking, Working Mother magazine selects the top 100 companies in the U.S. that demonstrate progressive workplace programs such as flexibility, advancement, paid family leave and childcare.
Zoetis Benefits and Work-Life Programs Stand Out
Zoetis was ranked highly by Working Mother in recognition of its benefits and work-life programs such as back-up child care, paid time off, leaves of absence, adoption assistance, and health and wellness offerings.
"Zoetis is honored to again be selected as one of Working Mother magazine's top ten companies," said Roxanne Lagano, Executive Vice President and Chief Human Resources Officer at Zoetis. "This award has special meaning for us because it continues to recognize our commitment to cultivating a workplace where colleagues can balance their work and life responsibilities and build rewarding careers. We are proud to be recognized for our leadership in establishing policies, programs and a corporate culture that supports not only working mothers, but all colleagues."
Kimberly Balaski Named Zoetis 2017 Working Mother of the Year
Kimberly Balaski, Director, Major Accounts Marketing and Operations, in our U.S. Companion Animal Division was named as the Zoetis 2017 Working Mother of the Year. Kim is the mother of Mason, age 6, and stepmother of Matthew, age 16, and was the first colleague in a companion animal leadership team role to work from a home-based office in Hattiesburg, Miss., far from the company's headquarters in Parsippany, N.J. Having the flexibility to create a full-time, remote work arrangement enabled Kim and her husband Chris to relocate from New York City and be closer to Matthew, who lived with his mother in Mississippi. At the time, Matthew was starting 6th grade and struggling socially and academically.
"I'm grateful that Zoetis fully supported me with this transition," said Kim. "Chris and I could balance work and family and have our boys grow up together." Not long after the move, Chris, Kim and Matthew's mother decided a change in home environment might help, so Matthew moved in with Kim and Chris. "It was a very challenging time in our lives, balancing care for Matthew, raising Mason who was an infant at the time and a demanding job with a considerable amount of travel," continued Kim. "I was fortunate to have a strong support system with my husband and family, my manager and Zoetis."
The change proved to be a positive one for all. Matthew, now in 11th grade, continues to make the honor roll, plays varsity football and is active in his church youth group. Kim, too, has excelled, having launched key products, won internal awards, and served as a mentor to colleagues.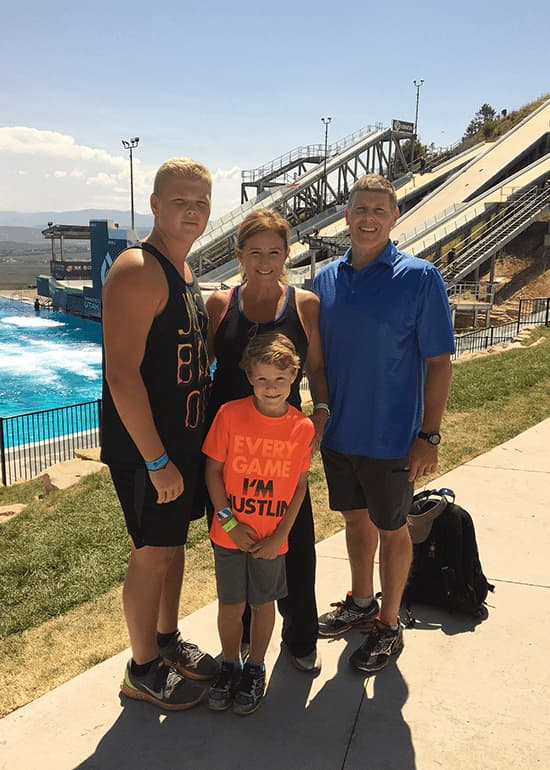 The Balaski family on a recent vacation in Park City, UT at Olympic Park.
In photo from left: Matthew (16), Kim, Mason (6), and her husband, Chris.
Learn More About Zoetis' Commitment to Working Parents:
Working Mother Magazine will feature profiles on Zoetis and the company's working mothers in the October/November issue and online today at http://www.workingmother.com/. The complete list of the 2017 Working Mother 100 Best Companies can be found here.